Flight and Motorhome/RV
4-25 Nights
from $1,350
---
All year
4-25 Nights
from $1,350
01Nov-31 Mar- 
01 Apr-14 May- 
15 May-31 Aug-1360 USD 
01sep-31 Oct-1350
---
With its endless array of hot springs, snow-capped glaciers, volcanoes and stunning vistas spread across a landscape that's simply brimming with things to do, it's not hard to see why Iceland is such a popular destination. Experience Iceland for yourself on a road trip in your own cosy camper van. The perfect way to experience the county's natural phenomena and incredible sights at your own pace.
Departures 2023: All year; daily or weekly
Direct flights from Boston (BOS), Chicago (ORD), Denver (DEN), Minneapolis (MSP), New York, (JFK), Orlando (MCO), Seattle (SEA) and Washington DC (WAS).
Connecting flights from other airports in the USA is also available.
package includes:
Round trip tickets to Iceland including taxes and luggage. Motorhome 4-25 days incl. Excess Reduction Cover and unlimited mileage. Duvet (No beddings or pillows) Friendly and helpful service from our knowledgeable staff. Free rebooking until 30 days prior to departure.
add ons:
Package is based on VW CADDY MINICAMPER. Possibility to choose other car types, see below. Beddings (Bring your own pillows, can not be booked). Carbon offsetting for your flights to and from Iceland.
Pay on the spot:
Upon collection of your motorhome an airport fee of approximately $40 is required. Petrol prices are higher than in the US.
Price information:
The price is per person. Our "from prices" always give you the best available price according to the dates given. Prices vary according to date and season, so it might be a good idea to search several different dates to get the best price.
ABOUT DRIVING A MOTORHOME IN ICELAND
Driving on the ring road
Driving in Iceland is not difficult but does involve a certain level of challenge. The main road that goes around Iceland is known as the Ring Road (or Route 1) and is 869 miles long. The road connects the biggest towns and passes through some of the most interesting parts of the country. Most of the Ring Road is paved and it is two-way in most parts. The speed limit is 50 km (31 miles) per hour in urban areas and 90 km (55 miles) per hour on paved roads in rural areas. It takes about a week to drive around the entire Ring Road at a leisurely pace with many stops along the way.
Driving on gravel roads
From the Ring Road is minor roads lead to a great many interesting sights and small villages. The majority of these are gravel roads that require a little extra attention, but which are generally easy to use in a normal two-wheel drive. The speed limit is 80 km (49 miles) per hour.
Driving in the highlands and on F-roads
In order to drive on so-called F-roads, you will need a four-wheel drive with ground clearance. These gravel roads are often narrow and not made for fast driving. F-roads are designated with an F in front of the route number on signs and on maps. Most F-roads are closed until the end of June or later because of wet and muddy conditions which make them impassable.
Late arrivals to Iceland
The camper van rental window closes at 18:30 and so if you arrive after that time you will incur a fee of 200 euros for the late collection of your camper van.
Rental cars
Weinsberg Caratour X15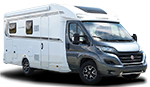 Weinsberg Carasuite X20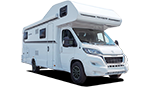 Weinsberg Carahome X30
We help you with your trip